Washington DC Medical Malpractice Attorney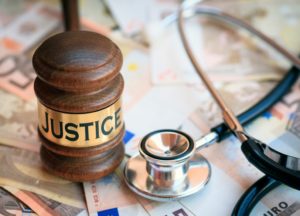 The Washington DC Medical Malpractice Attorney at The Rich Firm, PC are uniquely qualified to help patients injured by the negligence of health care providers. Staffed with two licensed physician-attorneys, we can save you valuable time and legal fees normally spent on evaluation and discovery.
We have won millions in damages for victims of medical malpractice in the Washington DC metro area. We represent patients, not insurance companies.
After years of medical practice and legal advocacy, we can determine when health care providers have caused your injury, and can help you obtain the award you deserve.
Medical Malpractice & Wrongful Death
Every year, more people die in the United States due to medical malpractice than from breast cancer, AIDS, and auto accidents combined. Yet few victims or their families file claims to recover the damages they are entitled to.
Medical malpractice refers to the failure of health care providers to meet a required standard of care. The breach of this legal duty to patients is known as negligence, and can result in liability if the patient is harmed.
After hearing testimony establishing the level of care expected of practitioners in the same field under similar circumstances, courts and juries decide whether the medical provider being sued acted reasonably under this standard.
Any mistake or omission that falls short of this requirement, injuring the patient, can be considered negligence and subject the health care provider to malpractice liability.
The primary goal of a medical malpractice case is to provide relief in the form of monetary damages to the victim, and to deter the negligent healthcare provider(s) from inflicting further harm upon others.
In a wrongful death lawsuit, the court will consider the financial support the deceased would have provided to their family if they had lived, and damages may be awarded to surviving loved ones based on this economic loss.
Contact The Rich Firm, PC for your free consultation by an Best Washington DC Car Accident Lawyer. Call us now at 1-888-RICH-LAW, or simply ask us to call you.
Recognizing Medical Malpractice
Medical professionals are held to a higher standard of care because only they have the skills and expertise upon which patients depend. Patients are seriously disadvantaged in their reliance upon health care providers who often hold the patient's life in their hands. Any error, however small or unintentional, can cause lasting damage and even death. Malpractice often involves:
Misdiagnosis

Laboratory errors
Improper treatment

Birth injuries

Cerebral, Erbs Palsy
Dystocia, delayed delivery

Surgical errors

Intubation, anesthesia
Laparoscopic procedures
Improper use of Da Vinci robot technology

Post-operative problems

Infections, bedsores
Failure to monitor patient

Prescription medication

Pharmaceutical, dosage errors
Contraindications, side effects

Lack of informed consent

Description of operation and risks
Signed approval for specific surgery
From intake through treatment, physicians and staff are responsible for monitoring patients and eliminating foreseeable risks. Although they cannot predict every surprise on the operating table or emergency room, health care providers are expected to follow certain protocols and execute the proper response. Failure to do so can endanger the patient and give rise to malpractice claims.
Medical Malpractice Damages
Patients and families who can show that medical providers breached a legal duty causing injury or death may be entitled to various forms of compensation. Laws in Maryland, Virginia, and Washington DC may differ depending on the type of personal injury or wrongful death claim. But at-fault parties can be required to compensate victims for all resulting damages, including coverage for:
Lost income
Hospital costs
Medical expenses
Funeral, burial costs
Rehabilitative therapy
Special needs education
Future potential earnings
Loss of relationship (death)
Follow-up treatment and care
Pain, suffering, mental anguish
Hospital administrations are often reluctant to admit medical errors and may neglect to inform patients of mistakes. Patients themselves may be hesitant to press their case, dreading the time and legal expense of mounting a successful claim.
But experienced representation can eliminate these hurdles and transfer the staggering financial burden from your shoulders to the responsible parties.
Getting Legal Help with Your Washington DC Medical Malpractice Attorney
If you were injured or a loved one has died due to medical negligence, the Washington DC medical malpractice attorneys at The Rich Firm, PC can help. As medical and legal professionals, we are seasoned advocates for victims of malpractice. We understand that patients need answers after a decline in health or unexpected death.
That is why we are dedicated to promptly investigating your claim and helping you on the road to recovery. At the Rich Firm, PC, you get the personal service and individualized attention you deserve. We serve clients throughout the Maryland, Virginia, and Washington DC areas. Call (202) 529-9379 today for a free consultation or contact us online.