Pressure Ulcers (Bed Sores)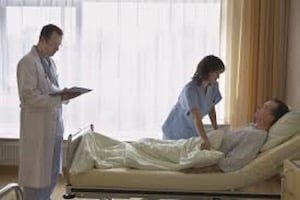 The long periods of inactivity and bed rest that go along with many surgeries and hospital stays are supposed to be a time of healing and recovery. But all of that time in bed can create rather than relieve health problems. One of the biggest post-operative risks that can develop in a hospital are pressure ulcers, more commonly known as bed sores. Every year, tens of thousands of hospital patients develop these extremely painful injuries, which can ultimately lead to deadly infections. -However, almost all hospital bed sores are preventable if doctors, nurses, and hospital staff appropriately evaluate, monitor, and care for the patient to prevent and treat these injuries.
When they fail to do so and fall below the required standard of care, patients who develop bed sores and any related injuries may have a claim for medical malpractice. The Washington DC bed sores lawyers at The Rich Firm, PC help patients and their families obtain significant compensation for pressure ulcers caused as a result of negligence and other failures by medical staff.
What Are Pressure Ulcers?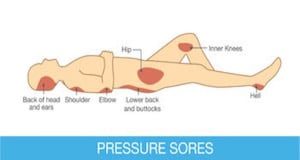 A pressure ulcer/bed sore can develop when prolonged pressure is put on a given area of skin. This pressure, which in hospital and nursing home settings is usually caused by immobility and lying in the same position for a long time, cuts off blood flow to the skin. This leads to the development of painful sores which may start off as red or irritated skin but can then quickly evolve into broken skin, blisters, and open, bleeding wounds that are prone to potentially deadly infections.
According to the U.S. Department of Health and Human Services, pressure ulcers affect more than 2.5 million people annually, leading to the deaths of 60,000 patients every year.
Preventable Bed Sores Caused by Medical Malpractice
Pressure ulcers and bed sores are a known risk for post-surgical and other hospital patients who are limited in their ability to shift and move their bodies during the long times they spend in bed. Doctors, nurses, and hospital staff should be aware of these risks and take steps to prevent bed sores from developing or quickly identify and treat those bed sores if they do appear.
Since bed sores can develop quickly, sometimes in a matter of hours, patients at risk should be closely and frequently monitored. Assistance in moving the patient and adjusting their bodies should be provided, and any signs of pressure ulcers should lead to immediate treatment.
When pressure ulcers do develop in a patient, it is often if not usually the result of failures by medical professionals to meet the appropriate standard of care. Bed sores that are caused by such negligence can be the basis of a medical malpractice claim, and may lead to the recovery of compensation for any damages or losses caused by the injuries.
The Rich Firm, PC – Washington DC Pressure Ulcers Attorneys
At The Rich Firm, PC in Washington DC, we have a rare combination of legal skill and medical training that can help individuals who developed preventable bed sores obtain compensation for their injuries. Several of our medical malpractice lawyers are also licensed physicians; this allows us to evaluate and pursue claims quickly and efficiently. We are fiercely committed to our clients' well-being, and work tirelessly to get them the maximum amount of compensation for their injuries. We have a long track record of success to show for it.
If you or a loved one has suffered from pressure ulcers or bed sores after surgery or during a hospital stay, please give one of our Washington DC bed sores attorneys a call at 888-RICH-LAW (742-4529) to set up your free consultation or contact us online. We look forward to assisting you.