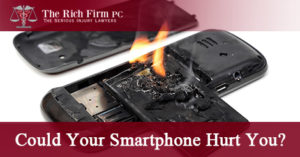 Just a couple months after launching its new smartphone, South Korean tech company, Samsung, announced it is pulling what was supposed to be its flagship product from the market entirely.
If you have heard stories about the Samsung Galaxy Note 7 melting, catching fire, or even spontaneously bursting into flames, it may sound unbelievable, but the reports are very real.
These days, just about everyone has a smartphone. In fact, about 68 percent of Americans own one, and that number is projected to jump considerably within the next few years.
However, these devices contain batteries that have been known to short circuit and cause fires. If you have been injured by a smartphone, computer, or any other kind of electronic device, contact a Washington, D.C. personal injury lawyer right away.
Problems with Lithium Batteries
Electronics are part of everyday life for most people, and they definitely make life easier. However, they are still a consumer product, and they are not error-free. In some cases, electronics have caused serious and even fatal injuries.
As reported by the New York Times, Samsung initially tried to salvage the Galaxy Note 7 by recalling 2.5 million phones sold in 10 countries after reports surfaced of the phone's battery causing fires. In the United States alone, there were at least 92 reports of Note 7 phone batteries overheating, resulting in 26 burn injuries and 55 instances of property damage.
Once Samsung began receiving reports of replacement phones also overheating, it decided to scrap the Note 7 entirely — a move tech experts say is almost unprecedented in the industry and particularly with such a heavily hyped product.
The demise of the Note 7 is a blow for Samsung, which may lose up to $10 billion in connection with the defective phone. Lithium batteries have caused trouble in other products, including laptops, hover boards, and electric cars.
According to CNET, lithium battery short circuits are typically caused by a puncture in the super-thin sheet of plastic that separates the battery's positive and negative sides. The same problem happened in Nokia cell phones in 2009, and to certain iPhones in 2015 and 2016.
There has also been at least one death linked to an exploding smartphone. The death occurred in China, when a computer store sales associate's smartphone exploded in his shirt pocket, severing the artery in his neck. Numerous other people have been burned by defective smartphones and other products containing lithium batteries.
Help for Product Liability Claims
When defective products cause an injury, it may be possible for the injured person to file a claim against the product's designer, manufacturer, and other parties responsible for putting the product on the market. Just because a product has been recalled does not mean an injured consumer does not have a claim for money damages.
When you have been hurt by an exploding smartphone, you deserve more than just a new phone and a "We're sorry" from the company that made it. You shouldn't have to pay for medical bills or property damage caused by a defective product.
Talk to a Washington, D.C. Personal Injury Lawyer Today
As a consumer, you count on the products and electronics you buy to be safe. When you bring something into your home, you expect it to perform the way it is intended to perform.
If you have been hurt by a product, you may be entitled to compensation for your injuries. Call The Rich Firm, PC today to speak to a lawyer today about your case.
Related posts: