Washington DC Cranial Hemorrhaging in Newborns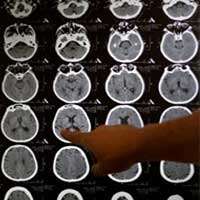 Sometimes irregularities during labor and delivery can cause Cranial Hemorrhaging in Newborns. Cranial Hemorrhaging is when bleeding into the fluid-filled areas (ventricles) in the brain occurs.
This in turn causes inflammation and pressure buildup in the brain that can present a life-threatening situation for the infant. Cranial Hemorrhaging can also cause severe brain damage and a condition called cerebral palsy, resulting in the need for lifetime supportive care for the affected baby. If you or a loved one has experienced this tragedy please calls us at The Rich Firm, PC at 888-RICH-LAW.
Babies born before 30 weeks of pregnancy are at higher risk for this condition. The smaller and more premature, the higher the risk of interventricular hemorrhage. This is because the blood vessels in the brain of premature infants are not yet fully developed and are extremely fragile. Blood vessels become stronger after 30 weeks of pregnancy thus handling the blood pressure more efficiently.
Cranial hemorrhaging is more common in premature babies when the expectant mother has been afflicted by respiratory distress syndrome, high blood pressure or other conditions. The condition may also occur in healthy premature infants born without any sort of injury; such bleeding may also develop in full term infants, however, it is very rare.
Cranial hemorrhaging is rarely present at birth. If it happens, it usually becomes apparent in the first days after the birth. While it is possible that no symptoms could be visible in many of the newborn infants, the most common include:
Breathing pauses (apnea)
Changes in blood pressure and heart rate
Decreased muscle tone
Decreased reflexes
Excessive sleep
Lethargy
Weak suction (when feeding)
It appears as an abrupt deterioration of the newborn's mental functions that start as abruptly as 24-48 hours even after having a normal birth with perfectly normal vital signs.
The condition is quite rare after 1 month of age, no matter how prematurely the baby was born, and the blood vessels have matured to be able to withstand normal capillary blood pressure.
It is important for the medical team dealing with the situation to do a cranial ultrasound as a diagnostic tool to be able to discard Cranial Hemorrhaging in your newborn, and other syndromes that may be present.
Currently, there is no way to stop the bleeding associated with a cranial hemorrhage; only the symptoms may be treated. But the incidence of Cranial Hemorrhaging in newborns has decreased over the years due to the efforts to reduce premature births, neonatal care wards, and better diagnostic tools. All of this has also helped to reduce infant mortality in these situations.
Again, If you or a loved one has experienced this tragedy please calls us at The Rich Firm, PC at 888-RICH-LAW.
The attorneys at The Rich Firm, PC has for decades championed the interests of persons and loved ones seriously injured by medical mistakes. We fully recognize that the impact of a tragedy on family members can be catastrophic. We desire to be a great resource to families dealing with tragedy and loss. We are prepared to be a resource to you during this difficult time. Feel free to call us without obligation and learn more about how we may help your case and your adjustment to the new life challenges you are now facing. The Rich Firm, PC can be reached at 888-RICH-LAW.
Consider Talking to an Experienced Washington DC Cranial Hemorrhaging in Newborns
Here is a link to an informational video published by Children's Hospital of Pittsburg in which Dr. Toby Yanowitz delivers a scholarly and very informative presentation on brain injury in premature infants:
http://www.upmcphysicianresources.com/cme-course/brain-injury-in-the-premature-newborn
We hope we can be of service to you in this challenging time. Call us so we can start working immediately for you.