Washington DC Distracted Driving Accident Attorney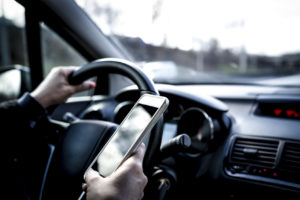 It's not an exaggeration to say that distracted driving accident has reached epidemic levels in our country. According to the Washington DC, more than 1,100 people are injured every single day by distracted drivers.
The problem has become so widespread, the federal government and most state governments have launched distracted driving campaigns pleading with motorists to put their cell phones down and keep their eyes on the wheel.
Despite these efforts, a large number of drivers continue to gamble with their lives and the lives of everyone else on the road by engaging in a number of unsafe activities behind the wheel. Although texting and driving tops the list of the most dangerous types of distracted driving, anything that takes a motorist's attention away from the road can lead to a catastrophic accident.
Distracted Driving in Maryland & Washington DC
Distracted driving isn't a new phenomenon. For as long as there have been cars on the roads, inattentive motorists have caused serious accidents. However, new technology has caused driver distractions to skyrocket.
From high-tech cars that contain more in-vehicle gadgets than the original lunar lander, to smartphones that buzz and ping constantly with text and email notifications, drivers are more distracted than ever before.
In recent years, states across the nation have passed laws aimed at curbing distracted driving. However, most of these laws are difficult to enforce. Unfortunately, distracted drivers usually only face harsh consequences when their negligent behavior causes a crash.
In these cases, the lawyers at the Rich Law Firm, P.C. work tirelessly to make sure careless and irresponsible drivers are held accountable for their actions.
If you have been injured by someone who wasn't paying attention behind the wheel, we want to help you get the compensation you deserve. Don't spend another second worrying how you're going to get through this. Our legal team includes medical doctors and other health care professionals who bring a wealth of knowledge and skill to these cases. We are ready to help you.
Have You Been Injured by a Distracted Driving Accident?
The days and weeks after a car accident are usually filled with anxiety, pain, and frustration. You're dealing with an overload of emotions and decisions. Working with a skilled car accident lawyer is the first step toward getting your life back on track. Call the Maryland & Washington DC distracted driving accident attorney at The Rich Law Firm today.