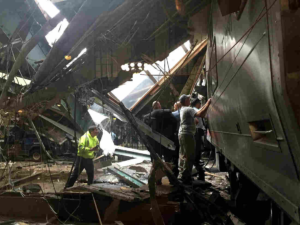 News reports about the most recent train accident have filled headlines for the last several days. A transit train crashed into the station in New Jersey, injuring hundreds and killing one. Although comprehensive analysis has not yet been completed, early data indicates that the crash may have been caused by operator error. The crash left behind such devastating wreckage that the National Transportation Safety Board would not allow engineers into the area due to a collapsed roof and potential concerns about exposure to asbestos.
Hundreds of injured victims in that New Jersey train crash were taken to area hospitals to be evaluated. The scene of the accident was described as horrific, with passengers attempting to exit the train screaming and crying.
Driving a train or being in charge of safety in any type of train or transit authority is an important responsibility. Being aware of potential risks and advising train conductors and engineers about the best way to prevent accidents is one of the most effective ways to minimize the chances of severe injuries or fatalities. Unfortunately, this New Jersey train accident is just the most recent incident where a train has severely injured passengers and others standing on or near the track.
The fact that the train left behind such a wake of damage in the train station indicates that the train may have been traveling too quickly for coming to a complete stop.
Train Crashes and Liability
In the event of an accident, it is important to make sure you're evaluated for injuries, even if you feel okay at the scene. Some more severe injuries, like internal bleeding or head trauma, can be difficult to identify right away. You should continue to monitor your condition for changes.
In cases like the NJ train crash, passengers may be able to recover compensation by speaking with a personal injury lawyer. These cases are often more complex than car accidents because a train crash may involve numerous liable parties. This is why it's always in your best interests to speak with a lawyer immediately after the crash about your rights.
Train companies and insurance carriers for those companies have clear and strict protocols about how they handle accidents. They may be encouraged to make swift and small settlements to passengers to minimize their future liability. Know that you may not understand the full extent of your injuries right after the accident. You need time to determine how a train crash will influence the rest of your life, and this is why you need to consult with an experienced personal injury lawyer about your rights.
Do not sign anything offered up by a representative of an insurance company, train company, or transit authority until you have had a chance to talk to your lawyer. Only your personal injury lawyer can help you determine if an offer is a fair settlement for your injuries. Signing something too soon may not allow you to cover all the costs of your medical injuries can may bar you from ever filing another claim.
During this difficult time, don't count on anyone but an experienced personal injury attorney to look out for your best interests. Only your Maryland personal injury lawyer can help to ensure that someone is looking out for you during this time.
No passenger should have to suffer the consequences of an inexperienced or distracted train operator. Likewise, safety checks of all mechanisms on the train should be a high priority for safety managers. Unfortunately, as many accident victims in recent years can point out, the likelihood of an accident is far higher than it should be. There is no way to go back and prevent the accident from happening, but you may be able to recover compensation after consulting with an experienced lawyer.
Finding a lawyer you can trust can have a big impact on your case. Reach out to a D.C. or Maryland personal injury lawyer if you have ever been hurt on a train. Getting help immediately is strongly recommended in order to protect the integrity of your claim- the statute of limitations requires that you take action quickly in order to pursue a personal injury claim.