Proving Negligence in Maryland Birth Injury Case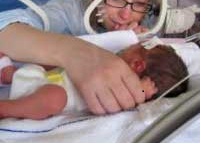 When serious problems or injuries are caused by mistakes, errors, or omissions of medical professionals before or during the birth process, medical malpractice has occurred and is actionable. Birth injuries can result in exorbitant lifetime special assisted care expenses, and families should not hesitate to seek the advice of an attorney to determine if it is in their best interests to bring a lawsuit for the injuries to their child.
Proving your birth injury case
It is important to contact a birth injury attorney in Maryland as soon as possible if you suspect that your child suffered an injury due to the negligence of a doctor, nurse, or other health care worker. Birth injury attorneys in Maryland understand how to gather the evidence necessary in these complex cases.
Your attorney needs to prove the following to prevail in a birth injury case:
What the appropriate standard of care is for the professional or professionals alleged to have caused the birth injury. The plaintiff can present expert testimony about the type of care that is usually provided under circumstances similar to the ones at issue.
That there was a failure to adhere to the standard of care by the doctor, nurse, hospital or other health care provider.
That a birth injury resulted.
That except for the failure of the health care professional or professionals to adhere to the standard of care, the child would not have been injured.
That there is a likelihood the birth injury occurred due to the acts or omissions of the health care professional or professionals during childbirth or the period leading up to birth.
Contact The Rich Firm, PC to speak to one of our experienced Maryland birth injury attorneys today
If you suspect your child received a birth injury due to the negligence of a health care professional, and you need experienced legal representation in Maryland, contact us online, or call our legal firm at (202) 529-9379, or toll free at 888-RICH-LAW for a free initial consultation. We also serve clients in District of Columbia and Virginia.