Washington DC Dangerous Drug Attorney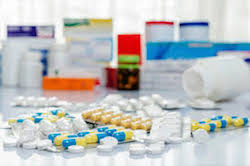 Every year, thousands of Americans suffer serious health problems and even die as a result of drugs and medical devices which were insufficiently tested, falsely promoted, or negligently manufactured.
The experienced Washington DC dangerous drug attorneys at The Rich Firm, PC know the harm and severe health problems that occur when a pharmaceutical company's "wonder drug" turns out to be anything but.
Holding Pharmaceutical Companies Accountable
It is estimated that Americans will spend over $535 billion on prescription drugs in 2018. That amount of money can lead large pharmaceutical companies to cut corners and rush medications to market in order to get a bigger piece of that pie. And just because a medication has been approved by the U.S. Food and Drug Administration (FDA) doesn't mean it's safe.
In fact, a study conducted in 2014 concluded that "new drugs have a one-in-three chance of acquiring a new black-box [the strongest possible] warning or being withdrawn for safety reasons within twenty-five years of approval."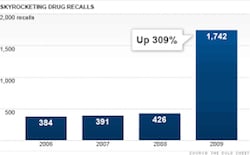 Indeed, it can take thousands of prescriptions and years on the market before the FDA and other health researchers and professionals become aware that certain medications cause serious side effects, injuries, or death.
At The Rich Firm, PC, we hold these multi-billion dollar corporations accountable for putting profits over patients and aggressively seek compensation on behalf of individuals and families who have been harmed as a result of their conduct.
Experienced Drug Attorneys. Licensed Physicians. A Distinct Advantage.
Dangerous drug litigation is complicated. Proving that a drug company was negligent, showing that their medication was the cause of adverse health effects or fatalities, and recovering compensation for the damage they cause requires more than just knowing the law. Understanding the medicine behind the medications is a key part of dangerous drug case evaluation and preparation.
At The Rich Firm, PC in Washington DC, we offer clients the distinct advantage that comes from having skilled dangerous drug attorneys on our team who are also licensed physicians. This unique combination of medical and legal experience gives us an ability to quickly and thoroughly analyze potential dangerous drug claims and provide our clients with options and recommendations for a path forward.
Aggressive Representation for All Washington DC Dangerous Drug Claims
The Rich Firm, PC's Washington DC dangerous drug lawyers pursue claims related to every type of medication – whether or not it has been recalled or widespread problems have been reported.
The Rich Firm, PC is currently investigating and pursuing claims for injuries and deaths linked to the following medications:
Pradaxa
Xarelto
Onglyza
Proton Pump Inhibitors (Nexium, Prilosec, Prevacid)
Onglyza and Kombiglyze XR
Levaquin and Avelox
Low-T Treatments
Zofran
Ripserdal
Actos
Invokana
Benicar
The Rich Firm, PC: Washington DC Dangerous Drug Attorney
Those who have suffered because of the negligence and greed of pharmaceutical companies need a champion. They need someone who will stand up to big pharma's army of lawyers with the commitment, tenacity, and legal and medical experience to obtain justice and compensation for the damage those companies have caused.
For families in the Washington DC area who have suffered because of a dangerous drug, The Rich Firm, PC is that champion. Our attorneys and licensed physicians have earned a reputation for aggressive dangerous drug representation and have a track record of success in getting our clients the compensation they need and deserve.
If you or a loved one has been injured or suffered adverse health effects as a result of taking a dangerous prescription medication, please give our Washington DC dangerous drug lawyers a call at 888-RICH-LAW (742-4529) to set up your free consultation or contact us online. We look forward to assisting you.