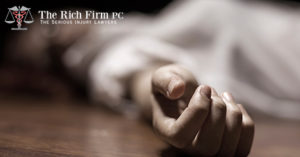 Get the Facts Behind Medical Malpractice Resulting in Wrongful Death
Medical professionals are specially trained to keep people alive—that's why it's especially shocking when a loved one dies as a direct result of medical care. Though a doctor's job is far from easy, doctors are held to a certain standard of performance. When a violation of this standard results in death, the victim's family is entitled to compensation. Here's a brief overview of medical malpractice resulting in wrongful death:
Surgical ErrorThough every kind of surgery is inherently risky, surgeons are still expected to perform to the best of their abilities. If a patient dies and it can be proven that the operating surgeon acted in a way that was inappropriate for a medical professional, the family may choose to sue for medical malpractice.
MisdiagnosisSince the body is tremendously complex, misdiagnoses happen all the time. However, certain diseases, such as diabetes and cancer, are well-documented and easily diagnosable. If a medical professional somehow fails to diagnose an ailment that any other doctor would have recognized, the negligent doctor is in a lot of trouble—particularly if the misdiagnosis results in the patient's death.
Incorrect TreatmentCertain kinds of treatment that work well for some people can be poison for others. Another example of medical malpractice, which often stems from a misdiagnosis, is the administration of the incorrect treatment. If such a mistake results in a loved one's death, it may be time to call an attorney.
Lack of Medical AttentionThough the emergency room is designed to handle urgent cases, the average wait time in 2009 was over four hours. If a loved one dies as a result of waiting for emergency care, you might choose to sue the hospital for failing to give your loved one necessary priority.
Common Forms of Wrongful Death Compensation
In a wrongful death lawsuit, a family seeks compensation for the untimely and avoidable death of a loved one due to someone else's negligence. Though there is no way to put a value on a life, juries do their best to compensate families in these cases by considering the following factors:
If the deceased required medical care before his or her death, many juries will award financial damages to cover these expenses. Similarly, they will usually provide compensation for funeral expenses.
Lost wages. Many families also receive financial awards to make up for the wages their loved one would have earned, had he or she lived. These awards also consider non-wage benefits of employment, like access to medical insurance. Calculating lost wages can be difficult, especially if the deceased was young or beginning his or her career, but juries do their best to estimate the amount of money the person would have earned throughout his or her life.
Pain and suffering. The loss of a loved one is painful and difficult, especially when it is sudden or unexpected. As part of compensation for wrongful death, juries will assign a value to the pain and suffering endured by the family now and in the future. This also varies based on the age of a person. The death of a young husband may result in a greater award for pain and suffering than if the couple was in their seventies, on the assumption that the wife will spend more of her life in pain.
Punitive damages. Punitive damages are intended to "punish" the person or persons responsible for wrongful death. They are awarded in addition to damages meant to compensate for the loss of the deceased.
If your loved one has died as a result of negligence, you may be entitled to damages for your pain, expenses, and financial hardship. Call 1-888- RICH-LAW (742-4529) today to reach The Rich Firm, PC. Our experienced team of attorneys and doctors can help you file a wrongful death lawsuit and start the process of getting you the damages you need.