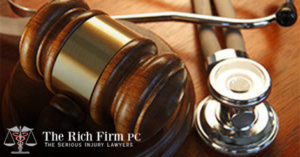 Medical malpractice is a lot more prevalent than one may think. The negligence of a medical professional is a frightening prospect, but thousands of people suffer the consequences every day.
Information published in the Journal of the American Medical Association revealed that medical negligence is the third leading cause of death in the U.S., killing around 200,000 people every year.
Medical malpractice liability costs around $35 billion a year, according to information from Congressional Budget Office Reports. This includes malpractice insurance and settlements awarded to victims of medical negligence nationwide.
Data from the National Practitioner Data Bank (NPDB) Medical Malpractice Payment Report show that in Washington D.C. alone, there have been over 1,400 medical malpractice claims since 2010.
Maryland ranked 27th in the country for the number of payments made on medical malpractice cases. Around one claim was paid for every 200 doctors across the state.
When most people think of medical negligence, surgical errors are often the first thing that comes to mind. This can probably be attributed simply to a handful of operating room horror stories that tend to get more widespread attention from media outlets.
However, surgical errors constitute just a small fraction of medical negligence cases. Some common cases of medical malpractice
Misdiagnosis or Failure to Diagnose
This is the most common cause for a medical practice lawsuit. If a licensed doctor gave you the wrong diagnosis or completely overlooked a health issue, they are very likely to be liable for any damages this caused.
Failure to Obtain Informed Consent
Another very common claim is the failure to ensure that the patient is completely aware of any and all risk, potential side effects or even possible alternatives of medical treatment or procedures.
Prescription Drug Errors
Considering that prescription drug misuse and accidental overdose is one of the leading causes of unintentional death across the nation, it is a very big problem when doctors are responsible for prescribing the wrong drugs, incorrect dosages or multiple medications with dangerous interactions.
Plastic or Cosmetic Surgery Errors
With the increasing numbers of people undergoing surgery for cosmetic purposes, this is an increasing issue. It is even more common than other surgical errors, in large part because there are a lot of licenses doctors who are not necessarily qualified for these kinds of procedures who want to benefit from the high demand.
Anesthesia Errors
This can include administering the wrong dosage, either not enough or far too much, or having the patient sedated for too long or too short a time.
Birth Injury
Mistakes made at any time during the mother's pregnancy all the way through to the baby's delivery and postnatal care can fall under this claim.
When someone is hurt due to medical malpractice, it is always advised to speak with an attorney right away.
A study published in the Journal of the American Medical Association (JAMA) showed that the average settlement for medical malpractice lawsuits for outpatient cases is around $290,000, while the financial settlement for inpatient cases is about $363,000.
Around 93 percent of all medical negligence cases are settled before ever having to go to trial, according the U.S. Bureau of Justice Statistics. For the 7 percent that end up in court, the payout is almost doubled. Most medical malpractice trials result in the jury awarding close to $800,000 to victims.
What sets the Rich Firm apart from any other medical negligence attorneys is the fact that these lawyers are also licensed medical doctors. This exceptional level of expertise in these two fields makes them outstanding in representing cases of medical malpractice.
The Rich Law Firm has settled cases for far higher payouts than the national average. In just a handful of their most recent medical negligence wins, the legal team and the Rich Firm recovered settlements of $900,000 and even $2 million for their clients.
Call an Experienced Medical Malpractice Attorney Today
If there is any chance that you of your loved one has suffered due to medical negligence, call the Rich Firm and schedule your free consultation.
You deserve justice, peace of mind and the compensation you need to get your life back. Call the Rich Firm today and know that that best medical malpractice lawyers in the D.C. area are fighting for you.
Related Posts: